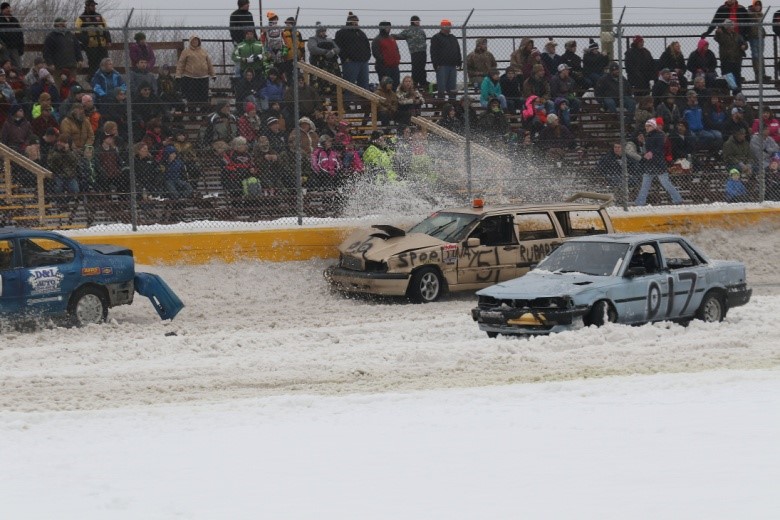 The race that everyone has been waiting for is ready to hit the high banks of Riverside Speedway & Adventure Park in Groveton, New Hampshire this coming Saturday afternoon, January 22nd at 1pm. The annual Winter Blast 100 Enduro is set for some very exciting slipping and sliding and adventures for the drivers and their passengers. This year's event is sponsored by Mike McGee's 3M 2J Transport from Whitefield, as well as Caron's Fabrication, and Batch's Kwik Stop in Groveton.
The weather and track conditions are perfect for Saturday's race as multiple inches of snow has fallen during the past weeks making for one of the finest tracks we've ever had for this event. Pre-Registration is at an all time high, and entries have poured in from all over the Northeast including entries from every state in New England, plus New York.
The Winter Blast 100 Enduro is the most unique winter snow event around as it is the only winter race that's allows passengers to ride with the drivers. You'll see husband's driving their wives, wives driving their husbands, and there will be several teams of father daughter combos plus mother son combos. As the event progresses the snow will turn to glare ice and strategy becomes extremely important as studded tires, chains or four wheel drive rigs are not allowed.
Pits open at 9am with tech beginning immediately. The grandstands open to the public at 11am, and racing begins at approximately 1pm. General admission is just $12.00 for adults over 12 years old, $10 for Senior's over 65 and Military, and kids under 12 are free with an adult. For more information visit our Facebook page, or visit our website at www.riverside groveton.com. If you have questions email riversidegroveton@gmail.com.